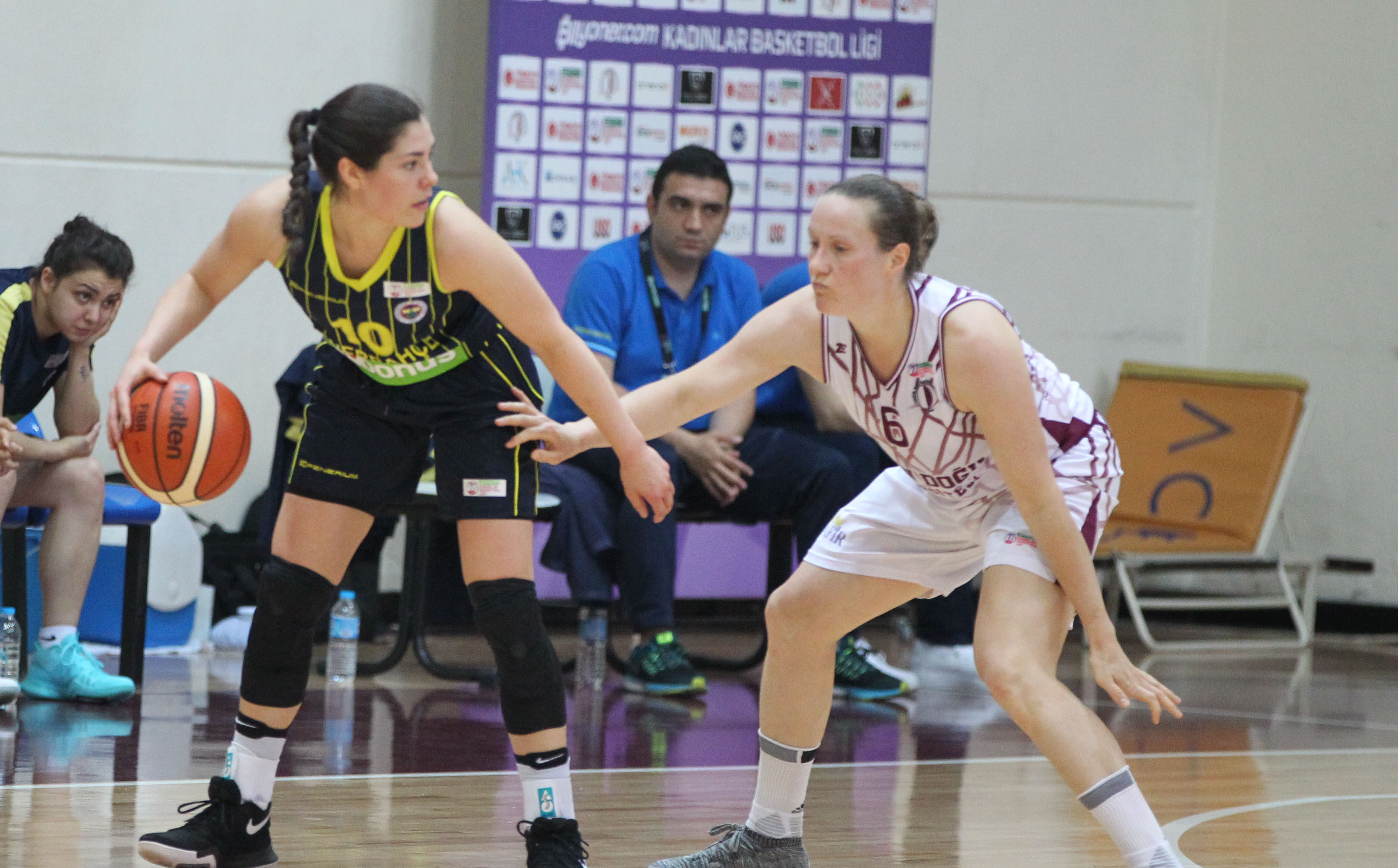 Near East University Women's Basketball Team hosting Fenerbahçe in its field at the first match of the Turkey Women's Basketball Super League championship final series was defeated 76-83. With this result, Fenerbahce went ahead 1-0. The second match of the season will be played at Caferağa Sports Hall on Wednesday, May 16th.
According to the information given by the Near East University Sports Club, Near East University played the match in Istanbul Caferağa Sports Hall with; Elin Eldebrink, Kayla McBride, Quanitra Hollignsvorth, Bahar Çağlar and Olcay Cakir Turgut. Match periods ended 23-26, 45-53, 57-67 and 76-83. Courtney Vandersloot, the assist queen of the league from the Near East University, could not take part because of her health problem.
In the first three minutes of the game, which started with mutual baskets, an equal score of 9-9 was achieved. Near East University went ahead to 12-11 with Elin Eldebrink's three-point basket. 3 minutes remaining to the end of the period, the score squared 16-16 and 19-19, the first period ended 23-26, Fenerbahçe ahead.
In the second period starting with the offense of the Near East University, the first basket came from Elin Eldebrink (25-26). Fenerbahce took the score to 40-46 in the last three minutes. Fenerbahçe completed the second period 45- 53 ahead.
The first baskets of the third period came from Kayla McBride (47-55) and Verameyanka. The first four minutes in the period passed 53-57. Both teams made ball losses and scored from the point of view of the vicious period of the final period with a score of 57-67 went Fenerbahçe superiority.
The first basket of the fourth period came from Fenerbahçe (57-70). Fenerbahce scored 61-74 while the fighting dose was increasing at 6.51 in the period. Elin Eldebrink's 3 consecutive 3-point baskets came for the Near East University and the score was 68-77. In the last three minutes the score was 71-79 and Fenerbahçe won with a score of 76-83.
Prominents …
Near East University; Jantel Lavender 14 points, 5 rebounds, Kayla McBride 13 points, 5 rebounds, 4 assists, Elin Eldebrink 11 points, 2 rebounds, 3 assists, Quanitra Hollignsvorth 10 points, 8 rebounds, Sandrine Gruda 10 points, Olcay Cakir Turgut 9 points, 8 assist, Bahar Caglar played with 9 points, 5 rebounds.
Fenerbahçede; Kiah Vaughn 17 points, 5 rebounds, 3 assists, Kelsey Plum 17 points, 3 assists, Birsel Vardarlı Demirmen 10 points, 6 rebounds, 6 assists, Anastasiya Verameyanka 9 points, 6 rebounds, 6 assists, Ayşe Cora 9 points, Tuğçe Canıtez 7 points, 3 rebounds, 3 assists, Giorgia Sottana added 5 points, 3 rebounds, 3 asists.
Zafer Kalaycıoğlu: "It was a match with low defense resistance"
Near-East University Women's Basketball Team Head Coach Zafer Kalaycıoğlu, who made a short comment after the match, said, "Our rival was able to make many three points shots. It was a match with a poor defense. Courtney Vandersloot could not take pare because of her health problems. We felt the absence of her, irst time we fall behind the assists in a match. On Wednesday we will show ourselves as a harder team. It is our first goal to bring the score to 1-1. We want to make the Turkish Cypriot people proud, I do thank them for their support ".